THE SONGS
Lovers in the Meadow, Rebels on the Moor
Johnson's Motor Car
The Broome of the Cowdenknowes
Courtin' in the Kitchen
Sallie B Fine
The Dutchman
Brennan on the Moor
Kevin Barry
Roddy McCorley
Come Out, Ye Black and Tan
Four Green Fields
The Patriot Game
The Queen of Argyll



THE CAST

DENNIS D'ASARO: Acoustic Guitar, Vocals
ANDY GORDON: Banjo, Bass, Pedal Steel, Vocals
PHILBERT MINNICH: Bass
STEPHEN MINNICH: Lead Guitar
....and Ringers:
PAUL RICE: Fiddle, Mandolin
TIM GRAY: Whistle, Organ, Accordion
ROBERT FRAKER: Mandolin
Recorded at DIGITAL DADDYLAND
FOR SQUARE FORCE ONE PRODUCTIONS
Produced and Recorded by ANDY GORDON

THE PROGRAM
LOVERS IN THE MEADOW, REBELS ON THE MOOR (Sallie L. and Dennis D'Asaro)
Excuse us for sliding a really serious song into a mostly-fun album. Somebody around here was born a Lawler, and resonates to that special, so difficult part of the world. We like to think the song says its own piece, but for cross-reference you may view the Brad Pitt / Harrison Ford flic, "The Devil's Own." [Gawd, excuse me.... Harrison Ford / Brad Pitt. And my agent can lick your agent].
JOHNSON'S MOTOR CAR (Traditional) You know...Dr. Johnson, the hapless patsy of this gleeful deceit, is being taken advantage of --- and sorely lampooned --- only for behaving as a responsible physician.
THE BROOME OF THE COWDENKNOWES (Traditional) Full of exasperating Scots dialect. All you need to know is it's a Celtic torch song, like which there's nothing.
COURTIN' IN THE KITCHEN (Traditional) A cautionary song: the torch gets soused in dishwater!
SALLIE B FINE (Traditional) Shame and scandal! A folk-processed rendition of the Irish version of the Caribbean progenitural burlesque.

THE DUTCHMAN (Michael Smith) A fine and uncommon love song. The Clancy Brothers were kind enough to record it, legitimizing its inclusion in an Irish album.
BRENNAN ON THE MOOR (Traditional) Behave badly --- be remembered joyously.
KEVIN BARRY (Traditional) With all due respect. The singer, who is normally a relaxed sonamagun, stood to record this song.
RODDY McCORLEY (Traditional) Third Irish tune Dennis ever heard, after Molly Malone and The Poor Potat. Kingston Trio, 1957. There is a power in this stuff.
COME OUT, YE BLACK AND TAN! (Dominic Behan) About as fierce as this band is likely to get, not wishing to foment anything serious. Kindly leave your house gun at your house and your car gun in your car. Thank you very much.
FOUR GREEN FIELDS (Tommy Makem) This is what it's actually about.
THE PATRIOT GAME (Dominic Behan) No, THIS is what it's actually about
THE QUEEN OF ARGYLL (Andy M. Stewart) The song that leads eventually to the torch song. Dennis plays with the unwinding energy of a broken alarm clock. Just as he's about to get out of his depth, along comes Steve! (Steve is really under-represented on this record; but on this track he got in one wild garage-band Stratocaster ride for your delectation.

--- Dennis D'Asaro, for "SHAKESPEARE IN THE ALLEY," St. Patrick's Day, 2004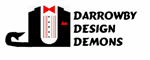 Sallie D'Asaro conceived this album, conceived and co-wrote the title song, designed the labels, printed everything, ran off the CDs, assembled the packages, and exhorted us to meet our release date of March 17, 2005.
And bred a litter of puppies and went to work every day.